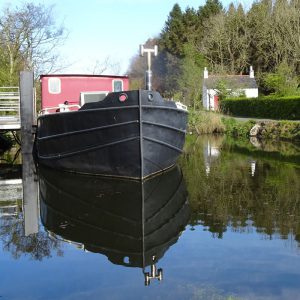 The Lagan Towpath follows the River Lagan and the Lagan Navigation system, which dates from the late 18th century, through a variety of wetland, riverside meadows and woodland, parks and nature reserves from Lisburn to the heart of the City of Belfast.
The Lockkeeper's Cottage at Lock 3, McCleave's Lock, has been restored and is often open for visitors and an original Lagan canal barge, 'The Industry' lighter, is on site at the Lock Keeper's Cottage. Beside the cottage is the Lockkeeper's Inn, open every day from 9am to 5pm for coffee and food.
The Lagan Towpath is part of Lagan Valley Regional Park, which has been designated an Area of Outstanding Natural Beauty.
The book By the Banks of the Lagan – Belfast to Drumbridge by Dr Ben Simon tells the story of life along the Towpath through the stories of people who lived and worked in the area. (ISBN 978-0-9551583-4-6)
Save
Save
Save
Save
Save
Save
Save
Save
Save
Save